Spring RV Getaways
Published on Aug 16, 2022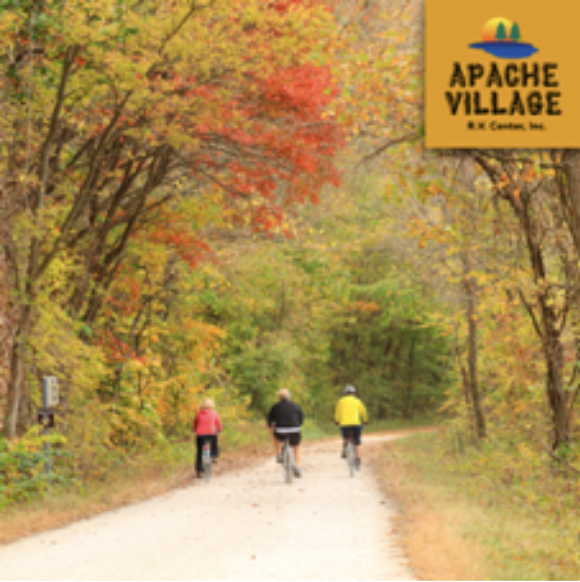 Spring is right around the corner…hopefully! It's time to start planning your RV getaway & kick these winter blues! There are countless opportunities for fun around the country. Soon you could be hiking historical trails, golfing a beautiful course in southern Florida, exploring underground caves, splashing around a white sandy beach or enjoying a relaxing winery tour! We have found five amazing destinations, and one of them may be your next Spring RV adventure!
Katy Trail State Park
The trail began as the Missouri-Kansas-Texas Railroad which was part of the main line to St. Louis. It has since been converted into a 240-mile trail for bicyclists, horseback riders and hikers. The Katy Trail trip planner allows you to conveniently plan your stay along the trail and locate services! Cooper's Landing Riverport Marina is one example of excellent campgrounds. Cooper's Landing has 30 amp electric and water hookups as well as a dump station. The marina offers dining, boat fuel, a dock, and a store.
Sarasota, Florida
If you are in the mood to take the kids to the beach, ride bikes, hit the golf course, the aquarium or zoo, or maybe even take in a Baltimore Orioles Spring Training game, then Sarasota, Florida is your spot! The white sand beaches lie an hour south of Tampa, as well as some of Florida's oldest and largest state parks. The County of Sarasota has two state parks: Myakka River State Park and Oscar Scherer State Park, as well as the Myakka State Forest. Each location is filled with notable wildlife and birding hotspots for rare birds found only in Florida! There is also plenty of space for some form of camping and hiking.
Steamboat Springs, Colorado
Nestled in the Rocky Mountains of Colorado, Steamboat Springs offers plenty of activities for the whole family, from skiing and snowboarding, to relaxing in the natural hot springs, to hiking through the wilderness areas, botanical gardens, and parks. There will be something for everyone! There are two main areas for shopping, dining, and recreating, Gondola Square and Downtown. There is also a free bus system as well as free shuttle services to get you to where you need to go. The atmosphere is real, genuine, and friendly, just like the people who live there!
Winery Tours
Staying at the Hermann Horse RV and Camp Park provides easy access to the Hermann Wine Trail. This wine trail prides itself on breathtaking vistas and historic wineries along the trail between Hermann and New Haven. The wineries included are:
Adam Puchta Winery
Bias Winery and Gruhlke's Microbrewery
Hermannhof Winery
Oak Glenn Winery
Robller Vineyard and Winery
Stone Hill Winery
Carlsbad Caverns National Park
The Carlsbad Cavern is one of the oldest and most famous caves in the world, located in the Guadalupe Mountains in southeastern New Mexico. Not only is there vast history, but several underground chambers up to 250 feet high, made up of many amazing colors and shapes. The largest is The Big Room, a limestone chamber that is the fifth largest in North America and the twenty-eighth largest in the world! Camping is by permit only, and free permits may be obtained at the Visitor Center. For campers, ⅔ of the park is set aside for wilderness area. Visitors are able to hike on their own via the natural entrance, or they may take an elevator from the visitor center.
It's time to start planning now that we have you dreaming of warm weather and new adventures! With a little preparation, you'll be ready to jump in the RV and hit the open road the moment Spring rolls around. We hope at least one of these destinations has inspired your next RV getaway! We are here for any parts or service you may need. When adventure strikes, be sure to start your journey at Apache Village!