Living Like A Snowbird
Published on Aug 16, 2022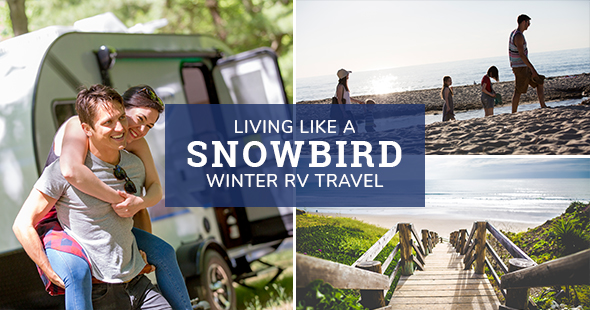 Snowbird season is near, with cold weather beginning to descend on much of the United States. You've likely heard the term "snowbird" before, but may not fully understand what it means. Snowbirds are travelers who escape their state or region's harsh winter weather to travel south where there's warmer days and sunshine awaiting them.
If you're feeling the winter blues and longing for sandy beaches and endless sunshine, here are some tips and top places to flee in your RV this snowbird season.
Picking a Destination
The first step to snowbirding is picking a destination. You'll need to decide if you want to travel to multiple destinations, hopping from campground to campground, or if you want to park your RV in one location for the entire winter long. There are numerous destinations to choose from! Here are some of the most popular snowbird destinations:
Phoenix, Arizona
Charleston, South Carolina
South Padre Island, Texas
Austin, Texas
Clearwater, Florida
See Recent Blog on 4 Popular Snowbird Locations
Once you've picked your destination it's best to reserve a campsite...they may fill up fast!
Prepping Your RV For The Road
Most of you reading this blog are probably experienced RVers, so here are just a few quick tips to think about before loading up your travel trailer, fifth wheel or motorhome:
Check tires, brakes and axle bearings
Ensure your RV's air conditioning is working properly
Double check your RV's waste tanks are cleaned out
Tidy up your RV for a lighter load
Have your tow vehicle inspected
A friendly reminder, Apache Village RV Center offers RV Service. So if you have any questions or would like our service department to check our RV before hitting the road, contact us today!
Packing For Your Winter Getaway
Create a checklist to ensure you have all your snowbird essentials and everything else you need for your winter escape. Here's a short list of recommended supplies to pack for your RV getaway:
Clothing - both warm and cold, you may encounter colder temperatures even in warmer climates
First aid kit
RV Housewares - cleaning supplies, batteries, dishware, flashlights, etc.
Entertainment & Games - laptops, books and board games
Outdoor Gear - destination specific items, such as hiking and sporting equipment
Remember to have someone keep an eye on your home while you're gone to help prevent break-ins. You might even consider winterizing your home by turning off the heat and water. Also, if you're planning to be gone the entirety of winter you may consider holding your mail at your local post office.
Start Your Adventure South
Winter is coming, so start planning your trip now! Feel free to visit or contact us with any RV questions. Don't have an RV yet? No problem, we're offering HUGE savings on any orders made through Jayco to get you ready for next year's camping season. It's never too early to plan your next vacation. View all our available RV inventory.
Happy snowbirding!!